INFORMATION GUIDE ON PLASTIC TANKS
PLASTIC TANKS
Plastic tanks are becoming increasingly popular as they help facilitate the day-to-day operations of companies who are dealing with the proper and safe management of different types of liquids. Indeed, plastic tanks fully meet most of the needs of various industries who need to store or transport liquids, dense or viscous. In addition to these two main functions, plastic tanks are also suitable in the settling process, preparing mixtures or they serve as retention basins to prevent spills.

A range of models is offered, with different characteristics, strengths and accessories to perfectly meet the various needs of the market. They can even be modified and customized to better meet a particular need or a more specialized project. For example, it is important to select the right model and add the right components to the tank to be compliant for a potable water project, to contain a consumable liquid or a very corrosive chemical. All those applications have specific requirements. Versatile and adaptable, the plastic tanks are the equipment of choice to facilitate the management of liquids and optimize the performance of a project.
Benefits of a plastic tank
Plastic tanks are easily accessible for both individuals and businesses. Indeed, they require almost no maintenance, are relatively light, easy to transport and set up. They are therefore found everywhere in different fields of activities. They can be installed indoors and outdoors because they are very resistant to weather, extreme temperature variations and UV rays. A large, ready-to-use stock is always available at our warehouse and tanks can be picked up or shipped across Canada. Everything is in place to facilitate your purchase, for an immediate use.
They also have several advantages over other types of tanks on the market; they are cheaper and lighter than stainless steel tanks, they do not rust like metal ones, their installation is very simple and the choice of models, volumes, dimensions and accessories offered is very large; they can therefore suit most of the needs of any food-grade or chemical projects.
They can also be customized to better meet the diverse requirements of customers from different industries. In fact, screwed, bolted or flanged and connections can be installed anywhere on the tank to create an inlet, outlet, vent, overflow or any other connections used to connect a pump, ballcock, electrical level indicator, laser, etc. These connections are offered in a variety of materials in order to provide appropriate chemical compatibility and ensure the durability and safety of the project.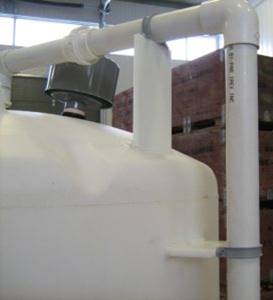 Plastic welding
Combined with the standard fitting's installation, plastic welding is offered to perform more complex assemblies to meet specialized custom needs. In fact, with the addition of the plastic welding process, it's possible to manufacture various customized accessories to improve and facilitate the use of the tanks. For example, by this method, we can install a plastic shelf for supporting a pump, fix a welded hook directly to the tank wall to attach a pump, add an inner suction pipe to drain the tank from above or an outer filling pipe with the connection at the waist height, when the tank is too high to reach the top, fabricate a mixer mount, a hinged lid to access the content without completely taking off the lid, baffles and all kinds of flanges and couplings for use with appliances.
In fact, with our rich experience, combined with the potential of custom design, the possibilities are endless. If you have a specific need or an idea in mind, we invite you to discuss with our experts, so that they offer you a solution to achieve your plan.
In many cases, purchase a plastic tank is obviously the best way to optimize a project; with the wide range of existing accessories, combined with the countless possibilities offered by custom manufacturing, everything is there to get the equipment perfectly adapted to your needs.
The right tank for
the right application
The tanks are presented in several models and volumes in order to meet most of the encountered needs on the market. First, it is important to confirm the chemical compatibility between the liquid to be contained, with the polyethylene, which is the resin used to manufacture the tanks, then, to validate the material of the components already installed on the tanks or to be installed, as the outlet, the ball valve and the seals, etc. The right combination will assure to prevent a premature deterioration of the tank and leaks.
The models
In many cases, the shape of the tank is critical to effectively perform a function. In fact, the shape of the tank must be adapted to the application for which it will serve so to preserve the life of the tank, facilitate the work of the user, ensure adequate durability of the equipment, prevent leaks or accidents and ensure the safety of people and the environment. That's why there are several forms of reservoirs which have been designed and developed for a specific purpose, to respond appropriately to a specific use.
TRANSPORT TANKS
The use of a transport tank is essential for anyone who wants to carry a liquid. In fact, the transport of liquid of any type must inevitably be done using a suitable tank for this purpose. Thus, the equipment is designed to be secured to a vehicle or a trailer for a safe transport, it also enables effective filling and emptying, while ensuring control of splashing by water movement.
The most common types of plastic tanks used for transportation applications are the free-standing round horizontal legs, elliptical horizontal legs, for pickup trucks, rectangular closed top tanks or Totes (IBC) which are a caged tank on a pallet.

Some safety standards exist surrounding controlled liquid transport, but they only apply to dangerous materials transported on a public road. In this case, the tanks must have a UN approval for the transport of hazardous materials. None of the plastic tanks that are offered have this approval, except the caged tanks, also called "Totes" or "IBC" that means "intermediate bulk containers." No other tank can transport hazardous materials on the road.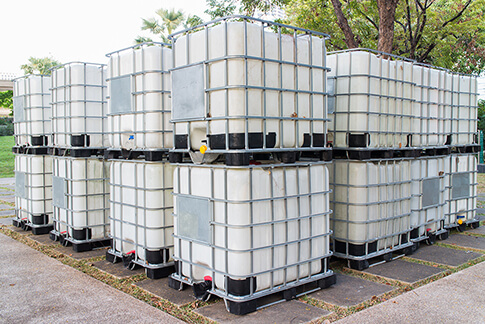 Pallet tanks (totes or ibc's)
An IBC tank means "Intermediate Bulk Container" or "Bulk Container." It is therefore a container that is used for bulk liquid goods. Of the full range of tanks offered, these pallet tanks are the only ones to possess UN accreditation for the transport of dangerous goods. The resin they are made with is treated against UV rays and comply with FDA standards for drinking water. These tanks are required to be used with their steel cage, because it prevents the tank walls to swell under the liquid pressure.
Commonly called 1000-liter plastic tanks, they are very versatile and therefore used in almost all areas of activity, because they are just as compliant for containing food products for consumption, as chemicals of any kind. This type of tank is very popular with bulk companies; several manufacturers deliver their products in this type of tanks. Companies working on construction sites or on the road frequently use them as a water supply for powering their tools or for cleaning. They easily transport and maximize space by stacking up to 3 high once full. Very inexpensive, they are very appreciated during short projects. They offer high volume at low costs are lightweight, easy to move by forklift or pallet truck and maximize floor space and transport trucks. They are sold fully equipped, with a 2 "valve and a 6" vented lid.
OTHER MODELS OF TRANSPORT TANKS
As for all other types of liquids such as drinking or waste water, maple water, urea, liquid fertilizers or any consumable or chemical liquids, they are not regulated by any laws, only by basic safety rules to transport them safely. Therefore, when selecting a tank for a transport application, it is necessary to take into account the shape and the capacity of the tank chosen, the specific density of the liquid to be held, the chemical compatibility, the truck or trailer load or traction capacity load, and make sure to comply with the safe way to bind and secure the tank, not forgetting to take into account the additional weight caused by the movement of the liquid.
Cylindrical or elliptical horizontal legs tanks
The agricultural field is a great accustomed to this type of equipment. Indeed, the horizontal transport tanks are installed on tractors, trucks or trailers for irrigation or spreading in the fields. These tanks come in a variety of volumes and dimensions, but they are the only models holding a volume greater than 1000 gallons. The choice is automatically turned to them when the required volume is large.

In the commercial or industrial sector, horizontal transport tanks also occupy a very important place. Their use allows several companies in various fields of activity to operate effectively on a daily basis. They are found in the distribution, delivery, recuperation or transportation of liquids of all kinds. For example, plastic transport tanks are perfectly suited for delivering or recovering food or waste vegetable oils in restaurants, for spreading insecticides or herbicides to treat lawns, to deliver water to homes or sites where there is no access to the water system, to equip a water truck for street cleaning or the watering flowers of the city, or even for the transportation of maple water during the sugar season.
There is not much difference between the round or elliptical model, it is rather a choice that will be made according to the dimensions and volumes offered. In fact, the elliptical models are lower, but wider than the round models, so they have a lower centre of gravity while providing better rear visibility.
The metal hoops serve to attach the tank to the vehicle; they are mandatory, without exception, on all elliptical models and on cylindrical tanks of 725 US gallons and over. They are optional on cylindrical models of 525 US gallons and less, but are still highly recommended for binding the tank safely, but also to preserve its integrity. Certainly nylon straps can do to bind small sizes, but they do not tie the tank as much as the metal hoops can do; in fact, they press the top of it when they are tightened, while the metal bands are rigid and perfectly fit the shape of the tank by bending up to the legs. They restrict the tank while leaving space for wall expansion, which will swell under the pressure of the liquid during filling, without creating any pressure on it.
Even if these two models of tanks have been designed for transportation at the base, they may as well be used for liquid storage when the available storage height is limited or the dimensions of the tank are the needed ones. For models in which metal hoops are required, they remain the same during storage. It is therefore necessary to install the metal bands on the tank, even when it is not moving, but in this case, they have to be fixed to the ground.
Rectangular closed tanks
These transport tanks are very popular with individuals or companies that need to carry a small amount of water or other liquids without taking up too much space on their vehicle. They are portable, easy to install and several models are offered, with different heights and widths, to meet the various needs and to fit the available space. They are found installed on ATVs, vans, trailers or pickup boxes. They are very useful and suitable for many types of businesses such as those in pressure cleaning, window cleaning, sugar shacks, canteen trucks and more.

Pickup tanks
Because to their mushroom shape, these tanks are dedicated to be installed in a pickup box only, because once filled, they must imperatively be supported by the wings of the truck. These tanks follow the shape of the pickup box, so they allow to use the space between the wings which is narrower than the rest of the box. However, once installed, they take up almost all the space, there is not much space left to install additional equipment.

This type of tank cannot be used in another context. Since the needs of a company can change over the years, we must ensure that the need for liquid transport will not change with time, because if the tank was to be used on the floor or on a trailer one day, model for pickups will no longer be appropriate, it will be necessary to opt for a horizontal tank. Despite their limited use, pickup tanks are often used by companies that own a fleet of trucks dedicated to a particular application such as transportation of potable or waste water, maple water, fertilizers, pesticides and insecticides.
STORAGE TANKS
For storage, it is obvious that all tanks are suitable, but the most common are still those of the vertical closed top type, because they are the most affordable of all the models and the variety of volumes and dimensions is very large.
Vertical open top storage tanks
The round vertical closed tanks are named so, but in fact, they all have a cover on their top that provides access to the inside to fill them, wash them or if the lid is large enough, to go inside if needed. Very versatile, they are suitable for both chemicals and food products. In fact, food processing plans use them to contain dyes, flavours, oils, wines, beers, water, etc. They are found in industrial and chemical field as a storage container for various corrosive or hazardous products, solvents, additives, soaps, etc. or as a buffer tank or recovery tanks between two processes. In the agriculture sector, their use is common to store liquid fertilizer and herbicides or simply to create a reserve of water for crops and animals.

The possibilities are many and very diverse. In fact, no matter the field of activity when it comes to store any liquid, plastic tanks remain a very attractive and affordable option. Even a citizen can bring a storage tank at home or at his cottage, to get a water supply or to collect rainwater. Basically, it's a fairly simple equipment as a whole that is easily adaptable to the many requirements and regulations of the various fields of activity. The volumes vary from 25 to 20,000 US gallons, so the choice is very large.
SETTLING, DENSE PRODUCTS
AND COMPLETE DRAINAGE
Cone bottom Tanks (Closed or opened)
They are two models of vertical conical bottom tanks; one comes with a closed top equipped with a lid given a limited access to the content and the other model has a total open top, which gives a total access to the product, that lid can be simply put on the top of the tank or can be completely removed. One or the other works well it just depends on the needs. They are made for storing dense, heavier liquids or products with particles and deposits. Those conical bottom tanks are the perfect choice for this kind of application.
Depending on the model, the cone angle varies between 17° and 45°, which greatly facilitates the emptying of the tank or allows a good settling. It becomes simple to separate two liquids from each other or to allow the deposits to accumulate in the bottom of the cone to effectively expel them from the tank afterwards. The use of conical-based tanks is also efficient when there are several batches of different productions to manufacture, because they are easier to clean and drain completely between each preparation.

Each tank comes with his specific stand, which is made of either plastic or steel. The plastic one is composed of black polyethylene (HDPE) with UV inhibitors and it is moulded in one piece. This material is unaffected by corrosion or rust, is inert to chemicals and requires no maintenance. It can be used both indoors and outdoors. The space under the tank is, however, limited since the legs are massive to support the weight of the tank. The steel one is strong, durable and offers more clearance under the tank. Although this support is painted black to protect against rust, this protection is not permanent; it may rust or corrode over time if it is in contact with chemicals or with water if it is installed outdoors. Original stands are required to obtain the manufacturer's warranty, as they are designed to avoid pressure points on the tank walls, which could cause leakage over time.
Secondary containment basins- rectangular open top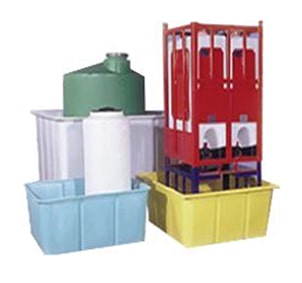 The rectangular retention basins were designed to protect the floors, building and workers from damage during the storage of a liquid. They help meet environmental regulations for spill containment and protect the storage area. This type of rectangular tank is not very high to allow to insert another tank inside. They are mainly used for securing any type of liquid stored in a tank by recovering possible leaks that may occur. They are therefore ideal for keeping places clean and protected from damage.
They are moulded from highly durable polyethylene, resistant to chemicals, corrosion and impact. However, they are not designed to contain a liquid in the long term, so their contents must be emptied after the spill has been controlled. They do not have a drain, since the main purpose of these tanks is to limit any possibility of tank leaks.
It should be noted that in case of leakage, the drain and valve located at the base of the tank inside the retention basin will be submerged. If this is a problem, then it is best to put the inner tank on a stand, in order to raise it. If the tank is directly placed in the bottom of the basin, it must be thought that the valve will also be more difficult to reach because of the basin wall. In most cases, the inside tanks have a suction pipe into it, allowing to empty it from the top.
The tapered walls of the rectangular retention basin allow them to nest in each other during shipment or storage. However, when selecting them, it is important to take into account the internal measurements of the base to validate if the storage tank fits into it. Because the base is narrowed than the top and the walls have a corrugated shape to provide more strength, they have a much bigger outside dimensions than the inside ones. They take a lot of space due to their low height, so it is important to confirm that the storage space available in the building can accommodate the outside dimensions of the basin, mostly with bigger volume, because the shapes of the basins become rectangular instead of square. In this case, the inside width of the basin must be big enough to receive the outer diameter of the storage tank itself. This type of retention tank does not fit everywhere because they take a lot of floor space, which is not always available.
Secondary containment basins – round vertical open top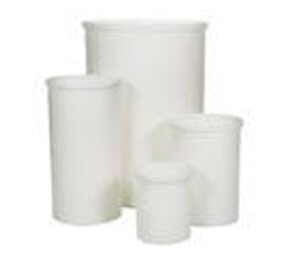 In some cases, the vertical open top tanks are selected to act as retention basins. They sure can contain a tank with a smaller diameter without any problem. They are strong enough to do the job safely. It is just difficult in this case to reach the bottom drain of the inside tank because of the outside wall is too high, so you need a system in place to suck the liquid from the above.
Double-walled storage and retention tanks – round vertical closed top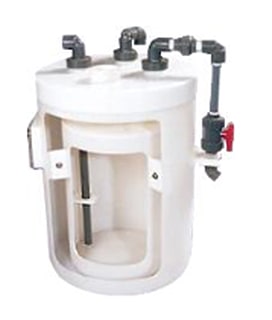 The double-walled vertical round closed top models are a "two-in-one" storage and holding tanks, which alone, are sufficient to contain and recover liquids in the event of a leak. They serve as both; a main storage tank and a retention basin.
Their footprints are much smaller than the rectangular open top retention basins, because the double wall rises much higher on the sides, in fact, it rises to the beginning of the domed roof, where the wall then becomes single thickness, facilitating the installation of fittings to draw liquid from above. With this type of closed top containment tanks, compared to those that are open, the liquid collected during the leakage is not exposed to the environment, which makes this model perfectly suitable for storing volatile, corrosive or dangerous liquids.
The regulations require them
Double wall tanks are ideal for storing any chemicals that are corrosive and dangerous for humans and the environment, as well as other threatening substances that could potentially endanger the health and safety of workers or damaging the environment in the event of a spill. Those tanks come with both an inner tank and a secondary outer tank that has 120 % the capacity of the inner tank and serves for containment purposes in the event of spillage. This rule of 120 % capacity is a strict rule ensuring the total recovery of the contents of the tank in case of leakage.
Double-walled tanks are extremely robust, durable and stabilized against the damage caused by the ultraviolet radiation of the sun. They are also designed to withstand the impacts of low temperatures and are therefore ideal for cold storage areas. In addition, the dome of the inside tank overlaps the sidewalls of the outer tank and so prevents the entrance of debris into con, rain, and snow from getting into the containment area.
PREPARATION OF MIXTURE
Three types of tanks have a complete opening at the top which facilitates mixture preparations and gives a full access to the content.
Two models have a round vertical open-top shape but one comes with a flat bottom and the other one with a conical bottom for more viscous or dense substances. These two types of open tanks are widely used for processes that involve dissolving mixes with water, for example in the preparation of powdered foliar feeds, pesticides, herbicides for spray applications. They are commonly used for mixing and blending other types of liquid mixes (paint, grout, animal feeds, etc.) and can be supplied with a mixer mount, hinged lid, baffles and fittings for use with appliances, if desired (available separately).

The third model is a rectangular open top tank, which is mostly made for dry mixtures. Each of them offers different benefits and their selection will be based on the available size, volume, type of content and accessories offered for each. Indeed, depending on the model, the tanks are equipped differently, some come with a drain, a level graduation or a lid, while others have none of that.
Vertical round open-top tanks – with flat or conical bottom
As said, the round models are mainly used for the preparation of dry to liquid mixtures. Depending on whether the mixture is viscous, thick, dense or liquid, the flat-bottomed or conical model will be selected to facilitate emptying. The conical bottom model will also be very useful during settling applications or when production batches are different from one time to the next and complete drainage and tank cleaning is required between each production.

Rectangular open top tanks
Most open rectangular models are mostly used for dry products, because their walls are smooth and without structure and are therefore, not rigid enough to contain a liquid without swelling under the pressure of it. Once filled, the tank would deform and the lid would not fit anymore. It is imperative to create a support, such as a steel or wooden frame to retain the walls during the contention of a liquid.
However, we offer one type of open rectangular large-volume bin that has been designed to hold liquids, it is solid and will keep its shape at all times. The lid will fit even when filled with a liquid without any additional support. In this case, it is possible to contain a liquid in a rectangular tank, but the choice is therefore limited because there is only one size offered.

Oval water basins
The oval water basin has a totally different design from other types of tanks. It is a model made of structural foam polyethylene that has been manufactured by the injection moulding process, which gives it a greater rigidity compared to all other types of tanks, which are manufactured by the rotational moulding process. Also, its walls have a moulded stairs design providing a good reinforcement. The basin is also equipped with a 1-1/2″drain for easy emptying. All elements are there to get a solid and durable water tank.

These basins were mainly designed to be used as a drinking trough for animals, aquariums or for a garden water basin. They normally contain water and can be left outdoors anytime, winter or summer, regardless of weather conditions. The water can even freeze in if it stays out all winter, something that all other tanks, all models combined, cannot stand.
The volumes
Volumes offered ranges from 25 to 20,000 US gallons (94 to 75,710 litres). The choice is quite varied from that side, but most tanks over 6,000 US gallons are mainly found in the vertical shape for storage applications. In fact, the weight of the filled tank becomes too high to be safe on the road, since it must take into account the dynamic load of the liquid, and above that, the vehicle carrying capacity that transports everything has some limits. With a weight of 8.33 pounds per US gallon, a tank of 6000 gallons would represent a weight of nearly 50,000 pounds, not counting the weight of the sloshing effect, the tank itself, metal hoops and other equipment. There are limits to transport a liquid load.
According to the manufacturer, the tanks are equipped differently and the variety of accessories offered is also different. All tanks have translucent walls and let you see the level of the liquid through them. Depending on the model, the tanks may have levelled graduation in US gallons, imperial gallons or litres directly moulded into the tank wall, otherwise a graduated sticky can be added.
Potable water tanks
Plastic potable water tanks are gaining popularity as more and more people discover the tremendous benefits of being able to control their own source of drinking water. In this category of tanks, we find :
Small-volume potable water tanks with a diameter of less than 30″ to easily fit into standard doors for residences, cottages and other types of establishments,
Drinking water tanks for agriculture and livestock farms that will be largely installed outdoors, but which can also be used indoors, as a source of water that does not freeze winter
Commercial water storage tanks should contain the maximum volume for the smallest floor area occupied to maximize the internal square feet of the building where they will be installed,
Industrial potable water tanks, on the other hand, must meet more specific requirements, such as being NSF/ANSI Standard 61 compliant for drinking water, or equipped with fittings, valves or flanges rated ANSI class # 150, to meet the industry standard.
All these different market sectors understood that having a potable water supply appropriate to their needs was the solution to many evils. Although the need is the same for everyone; to provide a water reserve, not all the same plastic tanks will be offered to each of these sectors. As we mentioned, the selection of the right water supply will be based on the area of activity and its regulations, the certification of the tanks, the space available on site, the volume to contain and the type of accessories that must be added to the tank. All these elements will influence the model, the shape, the size, the colour and the thickness of the tank to be selected.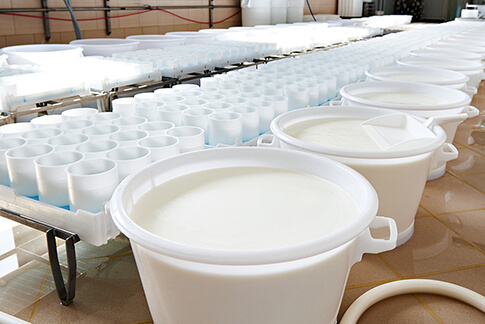 Food-grade application tanks – meet fda standards
When we talk about a food-grade plastic tank, we are talking about the type of plastic that makes up the tank; a natural virgin white polyethylene material, which in a first blending complies with FDA regulations for direct food contact. Most of the tanks found on the market are made from this polymer. If they are coloured, the dye used for their manufacture must be food grade as well to keep this qualification.
What sets the manufacturers apart is the variety of models that they are offering, as well as the thickness, shape, volume, dimensions, colour and components installed on their tanks that will change a bit, but the base will almost always be the same; either a tank made of high or medium polyethylene density (MDPE or HDPE), white or coloured and meeting the FDA standards. There are very few tanks approved by the CFIA, because it's a Canadian standard only, and there are very few manufacturers in Canada, but anyway, that certification is not insignificant, it's good to know. Many tank models also meet the NSF 61 or ANSI/61 standard, which are required for drinking water.
Food tanks are frequently used in food processing plans, restaurants, sugar shacks, drinking water or bulk food delivery companies, vineyards, breweries, etc. Again, their selection will depend on several factors, such as the products to be contained, the space available, if it is a mobile or stationary application and the types of fittings or accessories to be added. The choice is great because almost all food products, whether solid or liquid can come into direct contact with the tanks, it only remains to select the right tank model for the application and equip it with the appropriate accessories.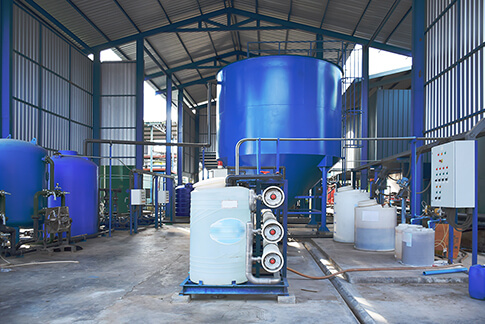 Industrial application tanks
Similarly, all industrial-grade plastic tanks are also made from the same resin; a natural white virgin polyethylene (HDPE), which means that by default, although they are designed for industrial use, these tanks are food-grade compliant. However, manufacturers specializing in the fabrication of these industrial tanks have much higher manufacturing standards than those that are not specialized and certified in this domain. Therefore, the quality of their products is superior to other manufacturers who do not address this sector of activity.
Indeed, they aim a much more precise industry, with more laborious required and in most cases require to meet specific standards or drinking water or chemicals.
In fact, the manufacturers of industrial-grade tanks are targeting a stricter sector of activity that is requiring meeting specific standards of the industry. The factory must carry out a much rigorous manufacturing quality control than the other manufacturers. For example, they will therefore perform a hydrostatic test to ensure the tightness of their tanks, something that other manufacturers do not do. The plant itself, and the products offered, must have the necessary certifications to be recognized by engineering firms. They must have stringent standards of quality control to make sure that the moulded tanks and accessories are always consistently reliable and perform to the needs and expectations of the market.
All of their products are manufactured to ASTM-D-1998 specifications and meet the rigorous ISO 9001 quality control standards. They are also the only manufacturers to offer tanks with a specific gravity less than 2.2 for more corrosive products. They also offer a variety of tanks moulded from cross-linked polyethylene (XHDPE / XLPE) to ensure better chemical compatibility. In fact, the most frequently used resin to manufacture the industrial tanks is still high-density polyethylene (HDPE), which complies with FDA standards and is listed as NSF 61 for drinking water applications.
Since chemical products have different chemical compatibility, industrial grade tanks have no basic equipment, so no drain, level graduation, or other accessories, except for a ventless top cover. All accessories must be selected separately depending on the liquid to be contained and the need to be filled. These components will be installed carefully according to a technical drawing that the customer must provide to the retailer. The drawing must indicate the diameter of each part to be installed, the material, the type of seal, the exact location with precise centre-centre measurements between two connections or ground, etc.
Different models and shapes of tanks are available to fill the countless number of needs encountered in this sector of activity. The range of supply is large because each application requires a particular tank model, with different dimensions and volume, but never as much as the manufacturers offering more general tanks, which can serve almost everyone and are more affordable.
Those manufacturers are offering different types of tank model: closed-top or open-top vertical flat bottom tanks, closed-top or open-top vertical conical bottom tanks, double-walled tanks, open-top rectangular secondary basins, pallet tanks (IBC Tote) and few horizontal legs tanks.
MAKE THE RIGHT CHOICE
It is important that you do your work efficiently, safely and in harmony with your industry regulations or environmental standards. It is therefore necessary to use the right tank for the proper application; it must meet all the important specifications and requirements of your field of activities to be as effective as possible and appropriated to serve you for years to come.
Will you find the right tank in all the models
and choices of accessories?
Don't worry, at Agrico Plastics, we are here to help you find the tank you need. Our dynamic, experienced and project-minded team can advise you to get a turnkey solution with a ready-to-use tank. Contact us today and take advantage of our great advice and recommendations: 450-471-2771.
Not sure what you need?
We can help you!